Scholarship Programme 2023 - how it works
*REGISTRATION CLOSED*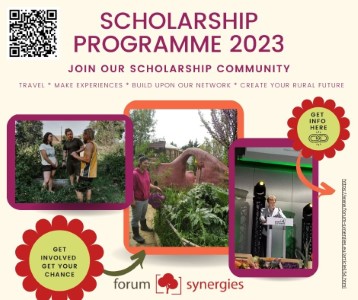 Through our trainee exchange programme we offer young people the possibility to spend some relevant time in a place of their choice in order to discover and learn from the experiences and practices of people & organisations dedicated to sustainable local & rural development. At the same time we are looking for people or organisations rich in experiences who are ready to host a trainee!
We also intend to involve both hosts and trainees to one of our upcoming events in order to enable personal exchange of experiences. Options will be announces asap.
GENERAL INFORMATION
Get involved ! Read more about the goals, the "how to" and the benefits here on our Scholarship Programme website
Quick Guide
INFO Sheet
Guidelines for TRAINEES
Guidelines for HOSTS
Guidelines for REPORTING
Model CONTRACT
REGISTRATION
In order to take part in this programme both host and trainee have to register online:
STEPS AFTER REGISTRATION
After receiving your application we will organise a short online interview to explain the goals and procedure and to answer questions from your side.
We will help you with the matching process between host and trainee.
In order to start the scholarship you should provide a workplan.
You should also provide a financial plan by using our online forms:
This information will be the basis for an assignment to be signed by Forum Synergies, the host and the trainee. Have a look to our model contract.
For any questions related to reimbursement please directly contact Simone Matouch at info[@]forum-synergies.eu. For bringing in your invoices, please use the reimbursement form . Reimbursement will be within 2 weeks after the approval of the reports.
PORTFOLIO OF HOSTS
Find your host!
For trainees who look for a place/ organisation to go to: visit the Portfolio of HOSTS
We are currently updating it.
CONTACT US
The Scholarship Programme is operated by Forum Synergies.
Your contact personsfor any questions:
Simone Matouch (DE, EN); Forum Synergies: info (a) forum-synergies.eu