RURAL YOUTH - intergenerational cooperation
"Intergenerational cooperation" is one of the keystones Forum Synergies builds on. We support young people to participate in international events as the European Rural Parliament in Kielce, PL in September 2022 through the scholarship programme.
New in the resource center
Places to be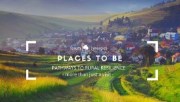 "Places to be" wants to put a spotlight on inspiring initiatives, people and places worth visiting.
The idea started writing our travelbook "Rural Europe on the Move" - a travel guide to transitions. Dive into these pathways to rural resilience here .