Webinar: potential of dialogue to revitalize communities_17Nov.2021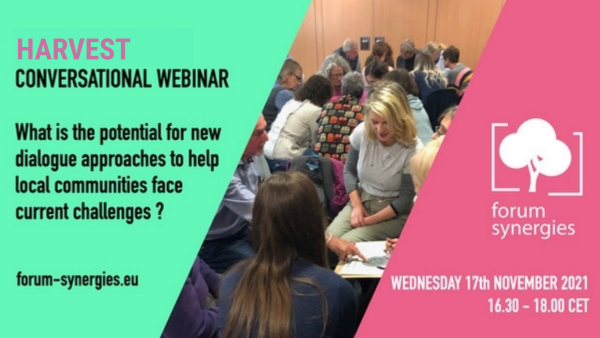 "What is the potential for new dialogue approaches to help local communities face current challenges? "
This conversational webinar held on November 17th was organised by Forum Synergies, in partnership with Cultivate: The Sustainable Ireland Cooperative, Community Climate Coaches, Change Exploratory, Ireland, Resilience Earth, Spain and Geyser/Ecole de dialogue territorial, France.
It aimed at:
hearing from from leading dialogue practitioners / community facilitators, what's new & emerging for community facilitators and how might regenerative approaches to dialogue contribute to the resilience of rural territories?
meeting colleagues from across Europe and compare experiences
helping us push our collective learning edge forward about how new approaches to dialogue can help us revitalise our communities and face current challenges better
You have access to:
the recording of the full session here
the harvest of the conversation on Territorial Dialogue and insights from participants available on-line or as a pdf document.
This document also includes a section on Resources related to facilitation methods, approaches, trainings and initiatives .
*******
​​Territorial dialogue builds upon public consultation and environmental mediation by engaging communities and local stakeholders in deeply participatory processes, so that they can collectively manage their local and rural communities and territories.
Approaching territorial dialogue regeneratively speaks to the evolution of these community engagement processes, so that they can become increasingly more value-added over time. This includes enriching relationships between all stakeholders, exploring common land-based identities, and moving towards the collective governance and stewardship of rural territories.
Erika Zárate is a Quechua-Canadian activist and practitioner in the field of community resilience and human rights based in Catalonia
Philippe Barret is a specialized mediator in territorial dialogue and environmental conflict resolution based in France
Chris Chapman is an experienced facilitator of systemic dialogue, working in the transformation of complex systems through greater inclusion and participation based in Ireland.
Facilitated by Davie Philip, a Community Climate Coach based in Ireland.