OURganic gardens, a community led social enterprise based in Gortahork (Ireland) .
Empowering the community ,growing OUR food and creating a sustainable future .
Rural topic(s): Places to be (work in progress), Agroecology and agroforestry
Type: Narrative story
Date of writing: August 31, 2021
Organization(s): OURganic Gardens
Text: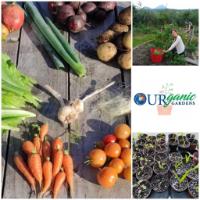 § A few words on OURganic gardens.
A community led social enterprise based in Gortahork , Co Donegal . Empowering the community , Growing OUR food and creating a sustainable future .
OURganic Gardens is based on a four acre small holding with vegetable and fruit gardens and a mature woodland. We run educational course on the environment and related themes as well as hosting a community garden and volunteers to the gardens. We are in the process of starting a CSA (Community Supported Agriculture) and also host Erasmus students and Workaway volunteers. We can offer a broad aspect of running our social enterprise. Co Ordinator Joanne is also involved in Community Gardens Ireland and her local Donegal Community Gardens Network aswell as the Donegal Environmental Public Participation Network and various Permaculture projects throughout the country. OURganic Gardens is currently on the Irish SeedSavers Seed Guardian training for this year and they are looking forward to becoming a Seed Guardians for Irish Seed Savers Association (ISSA).
♪ What kind of experience can you have there…
Visiting OURganic you can make rich experiences in the following fields of activities:
agriculture

permaculture

agroforestry/ Forestry

seed saving

organising of events, trainings
You can visit the place as a WWOOFER, participate in an event or as an on-line visitor.
☼ Travel information & Location
Donegal is a county and a town in the northwest of Ireland at the mouth of the River Eske. The name refers to an early medieval Viking castle. Dún na nGall literally means "fortress of the strangers". Donegal Bay is home to a seal colony, cormorants and cranes.
Find a description for the best way to get there on the Donegal Travel website.
☺ Contact
Informations:
Scale of intervention : Local
Keywords: community supported agriculture - CSA, organic farming, gardening, permaculture, short food chain
Places: Ireland
Actors: farmer, CSA (Community Supported agriculture)
Methods: training workshop, non formal learning