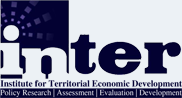 InTER (Institute for Territorial Economic Development)
Rural topic(s): Civic dialogue
City: Belgrade
Country: SRB
Web site: http://www.lokalnirazvoj.org/en
InTER - Institute for Territorial Economic Development – was established in 2006 as an independent non-governmental think tank with the mission of promoting and advancing sustainable socio-economic territorial development in the Western Balkans.
InTER is a fast growing regional think tank, with double registration, one in Serbia and another in Kosovo. This twofold registration gives InTER the requisite legal status to provide its services in all Western Balkan countries. Beside Serbia and Kosovo, InTER is also active with its operations in Montenegro and Bosnia and Herzegovina.
The main field of InTER's operations is focused on policy research, policy analysis, various types of assessments, sector studies, evaluations, planning and programming of development policies and measures. We also provide various capacity building services to different groups from public and private sector, including CSOs, in applying innovative tools and techniques for programming, strategic & action planning, monitoring & evaluation, cooperation and coordination.
Our philosophy is to provide mentorship support to local actors, mainly municipalities yet also grassroots organisations and business associations, in successful implementation of project interventions.
Scale of intervention : European
Keywords: integrated rural development, civil society dialogue, rural policy, participatory democracy
Places: Serbia, Kosovo, Balkans
Actors: advocacy NGO
Methods: consulting/expertise, recommendation, training/capacity-building, technical assistance