Hermon Community Center
Rural topic(s): Places to be (work in progress)
Type: Narrative story
Date of writing: November 4, 2019
Summary: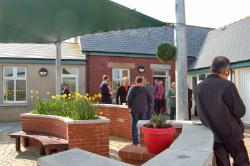 Hermon community has been struggling to maintain population and services since 2004 when the school was about to close.
PLANED supported the community helping to define what would be the vision of the neighbourhood in the future and to define their action plan. A Community forum was created in the area of Cwm Arian (Hermon, Glogue and Llanfyrnach) to follow and update the plans, with strong sustainability awareness.
This community action planning process has been materialised into different projects, such as Cwm Arian Renewable Energy group or a business plan for Hermon Community Hall: in 2008, the school building was purchased by the community, renoved and transformed in a Community Hall with energy efficiency, a hall and kitchen'services for community events as well as rooms to rent for local businesses. Managed by Canofan Hermon Committee, its volunteers have also been promoting the organisation of music events such as Celtic Blue Rock Festival.
Notes:
Where: Hermon village, Pembrokeshire, Wales
Who: Canofan Hermon Committee
Link: www.canolfanhermon.org.uk
Informations:
Scale of intervention : Local
Keywords: participatory approach, participation by inhabitants
Places: United-Kingdom
Actors: local community, inhabitants, inhabitant association