Focus on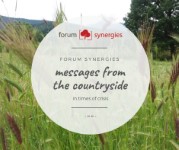 Messages from the countryside in times of crisis
Read the stories and questions to be solved from different parts of Europe with COVID-19 crisis!
New in the resource center
Sustainable Forestry
Sustainable Forestry is one of the topics we will focus on in 2020 - preparing a 4th workshop in a Mediterranean country. Read more about the project here
Explore success stories, experiences and organisations in our ressource center - like the Nature-oriented forestry in the municipal forest of Lübeck, DE - a best preactice example of how management can be adopted to natural processes and guarantee economic benefit at the same time.