Focus on

New Scholarship Programme: for young people who want to experience rural reality.
You want to host a trainee? You're looking for a host?
Find all relevant information here.
New in the resource center
Youth Scholarships 2019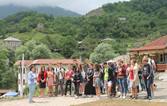 HOST_ ABCD.Innovation.Center from Armenia: an organisation empowering young people and developing their communities. You will be involved in their rural tourism social enterprise.