Scholarship Programme 2020 and beyond: WEBINARS
WEBINAR on 21.12.2020, 17:00 – 18:30 CET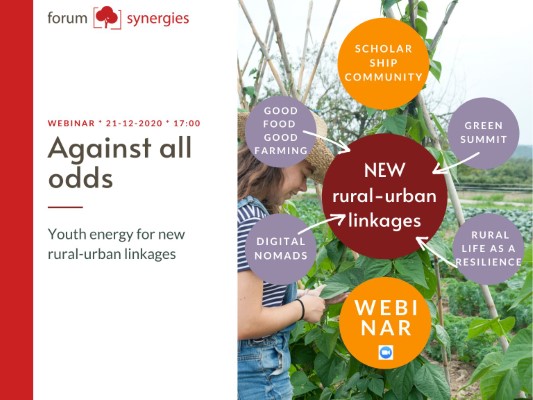 AGAINST ALL ODDS - Youth energy for new rural-urban linkages
After the Corona summer 2020 with little real travelling activities we will host a webinar on Monday 21st of December, 17:00 – 18:30 CET. It will be a mixture of scholarship experiences of 2020 and other activities of hosts and trainees.
Apart from 4 main presentations there will be space for exchange and discussion.
-* GOOD FOOD - GOOD FARMING
reCAPturing the local approach
Ana-Maria Gatejel (RO, NL); Conscious Kitchen. Good Food Good Farming Movement
trainee in 2020 at Porto di Terra (IT)

-* DIGITAL NOMADS
Co-working space in the rural as a model to bring together business and social aspects
Vahe Darbinyan (ARM); ABCD Innovation Centre; host organisation

-*GREEN SUMMIT
The Big Ideas For The Small Settlements - The Bulgarian solidarity approach
Valentin Angelov (BG), Aleko Karlovski (BG), Green Association; host organisation

-* RURAL LIFE AS A RESILIENCE
A Journey between dreaming and action
Mafalda Garcia (PT, LV), trainee in 2019, Associação BabelEscola (PT), Obelisk Farm (LV)
RECORDING
The recording of the webinar is available here


WEBINAR on 29.5.2020, 17:00 – 18:15 CET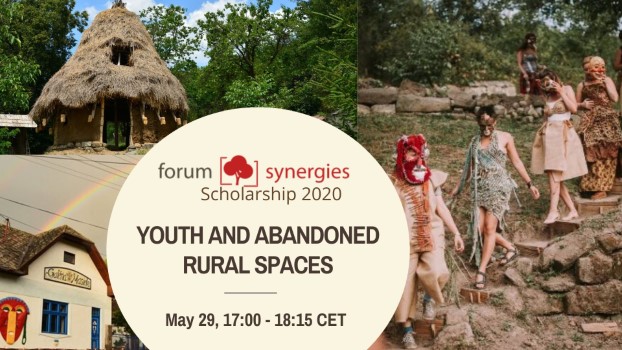 A second webinar organized by Forum Synergies and Latvian Rural Forum will be held on Friday 29th of May, 17:00 – 18:15 CET
The webinar will tackle the topic of Youth and abandoned rural spaces. For an immersion in this topic, we will try a methodical approach composed of a guided tour, presentation, and working groups.
Our main guest will be Jakub Dvorsky (FS Scholarship HOST 2019 and 2020) who will share his experience and let us enter Lišov Museum in Slovakia
In order to register for the webinar please use the google form: https://forms.gle/GHFKjVQ8RuFskARY7. Please register preferably before Thursday, 28.5.2020.
You will receive a reminder email and the ink to the zoom meeting room.
who will share his experience and let us enter Lišov Museum in Slovakia.
PROGRAMME & TOPICS TO DISCUSS
Find the draft programme here
WEBINAR on 30.4.2020, 18:00 – 19:30 CET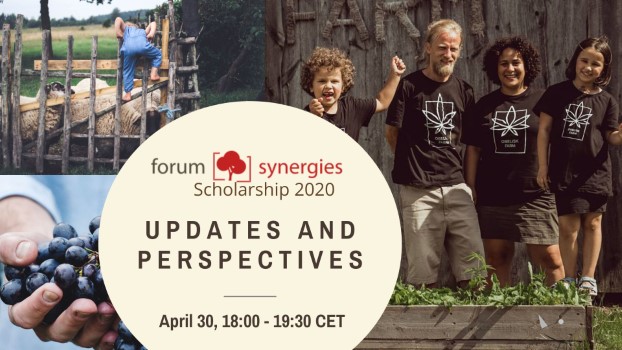 Originally planned as a tool for information and exchange about more technical, organisational and financial aspects and experiences of last year we more and more move towards a broader approach also including aspects of how we can stay in touch/ organise an exchange even if travelling still remains impossible due to COVID-19 induced planning uncertainties for an indefinite time.
We will offer some "appetizers" in form of videos or short presentations of hosts and trainees of 2019 as a starting point.
We are open to any questions that might come from your side and encourage you to bring in topics and proposals of how to organise a scholarship programme bridging the time until physical exchange is possible again. Thinking about bringing FS Scholarship programme out of the simple frame of an exchange programme, this could be a starting point to form a FS Scholarship community based on exchanges on specific topics that might crystallise!
PROGRAMME & TOPICS TO DISCUSS
Find the draft programme here
VIDEO
The webinar held on 30.4.2020 was recorded. In case you are interested to have a look at the presentations given by hosts and trainees and further disucssions
please click here -will be available soon , 1,9 GB!